United Kingdom New Chamber Opera – Cimarosa, Le astuzie femminili (Feminine Shrewdness): Soloists, The Band of Instruments / Steven Devine (conductor). New College, Oxford, 29.6.2022. (CR)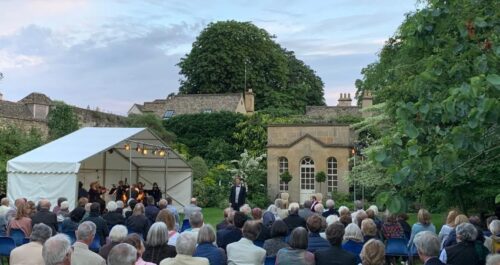 Opera in the Warden's Garden at New College (c) New Chamber Opera
Production:
Director – Michael Burden
Cast:
Dr Romualdo – Dominic Bowe
Ersilia – Gwendolen Martin
Filandro – Rory Carver
Bellina – Emily Brown Gibson
Giampaolo – Daniel Tate
Leonora – Kate Semmens
In a sense, every opera buffa could be said to centre upon and revel in the 'feminine wiles' that are the subject of Cimarosa's eponymous opera of 1794, Le astuzie femminili (sung in an English translation by Simon Rees). As Brigid Brophy argued in her book about Mozart, the emergence of opera as a fully-fledged artform by the eighteenth century coincided with the emancipation of wide sections of human society, politically and psychologically, under the mantle of reason, from age old hierarchical orders and assumptions as to gender and personal identities. Opera implicitly helped in identifying within that development the unjust oppression of women in general, particularly given the prevailing interest in vocal music in that era, which therefore drew attention to the greater, more emphatic form of expression possible with the human voice in its higher registers (be that in soprano or castrato roles).
Handel has long been appreciated for the nuanced and strongly drawn female characters of his opera serie earlier in the century. Opera buffa, in the latter half, enabled women to step forwards in certain comic situations to use their native wit and charm to overcome their inferior social and economic situation, at least to somewhat better advantage than the expectations ordinarily made of them. It doesn't take a radical feminist to recognise and admire the ingenious actions which women perpetrate in works of that genre (The Marriage of Figaro being the pre-eminent, if slightly atypical example) to advance their position over that of the usually dim or self-interested menfolk around them.
Cimrosa's late opera buffa (premiered three years after Mozart's death) hardly breaks new ground in utilising the usual tropes of a young woman being forced to marry, against her wishes, somebody other than the young man she loves; a money-obsessed ward who seeks to marry her himself – as much for the dowry she brings, as for her own person; and a happily-ever-after ending with the marriage between the right people. But Le astuzie femminili is of some consequence in making those feminine wiles not an incidental part of the narrative, but its centrepiece, with all three female characters working in concert to avert the provisions of Bellina's father's will which effectively require that she marry the unprepossessing Giampaolo Lasagne (that name also naturally prompting some ridicule in itself) because the estate is to go to him as her dowry. Bellina also consciously plays up to the notion of the emotionally liberated woman – even if only in possibility, rather than in reality – as she taunts Giampaolo with the prospect of four other potential husbands she pretends to be able to choose from, in a delightfully flirtatious aria in Act I.
In this al fresco production, Michael Burden's direction keeps the characters in adroit interaction before the audience, as they play their little jealousies, rivalries and desires off each other. In forming clear choreographic alignments or oppositions as the situation requires, they move in tandem with the eventful score which, true to the form of opera buffa, comprises more dynamically involving ensembles than dramatically static solo arias. Steven Devine leads a vivacious account of the music, which proceeds with Mozartian effervescence as it shifts between changing situations, if more with discretion than symphonic gravitas. Nevertheless, the strings and harpsichord of the one-to-a-part Band of Instruments buzz with energy without drawing attention to themselves, whilst the pair of oboes provide telling colour to underline emotionally potent moments.
With essentially abstract, rather than descriptive, music for the orchestra, it is left to the cast to bring the work to full dramatic life, which they achieve with idiosyncratic aplomb, and admirably precise diction of a characterful translation, in view of there being no surtitles.  Emily Brown Gibson sings with crisp insouciance as the heroine, belying the cunning schemes she helps to initiate to put Giampaolo off. Rory Carver is equally sympathetic in his lithe, zealous account of Filandro, her lover. Together they winningly negotiate a change of character and musical voice, as they successfully pull off a trick in concocting a violent tiff, disguised as hussars (here in spiked Prussian helmets) prompting her ward, Romualdo to encourage them to wed, before they reveal their true identities and the irrevocable fact of their marriage, and the happy resolution is attained.
Daniel Tate gives as much musically, as his character, Giampaolo, gets dramatically, expressing his confusion at the tricks played on him with amusing vocal dexterity in a sequence of patter song, and otherwise defending his self-esteem with some vigour. Clad in garish yellow tartan trousers and cap like the love-sick Malvolio, Dominic Bowe exudes slithery confidence as the caddish Romualdo, who is eventually prevailed upon to honour his earlier promise of marriage to Leonora once his designs on Bellina's dowry are scuppered. The latter is well assisted by Kate Semmens's convincing, witty take on the knowing Leonora who acts as her chaperone, dispensing lightly worn wisdom, and Gwendolen Martin on amiable form as her friend Ersilia, with whom Giampaolo is eventually paired up. All in all this is a charming recreation of an appealing work – an edifying enough project in itself, but which also helps fill in our knowledge of the operatic milieu in which Mozart's incomparable masterpieces came to birth.
Curtis Rogers