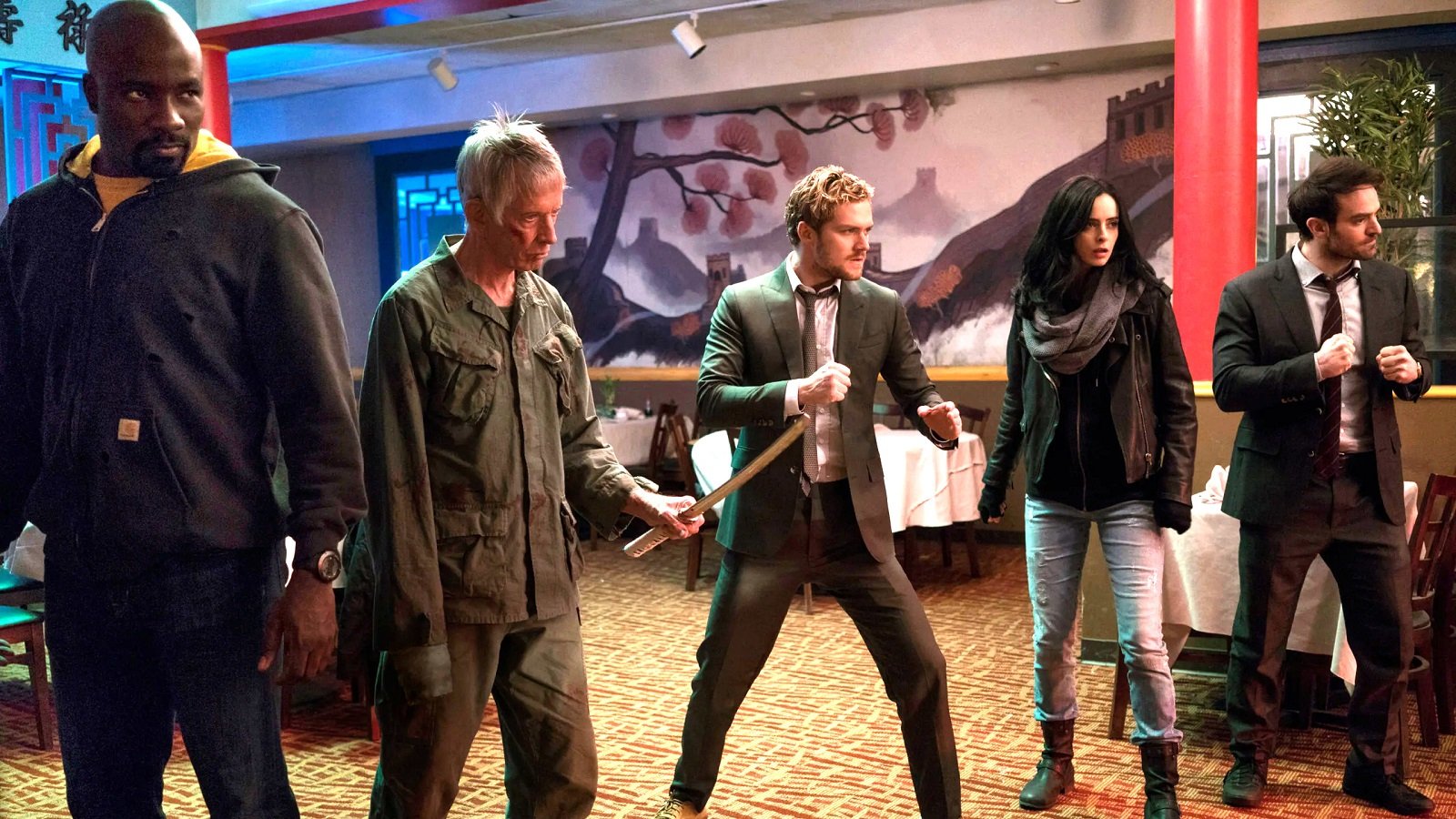 via Netflix/Marvel
When is Marvel Cinematic Universe canon not Marvel Cinematic Universe canon? According to Kevin Feige, when it takes place before WandaVision kicked off the franchise's expansion onto Disney Plus, and wasn't personally overseen by the boss man himself.
Prior to that, the company's chief creative officer stated in no uncertain terms that any shows produced and released under the now-defunct Marvel Television banner were no longer part of mainline continuity, a sentiment that plenty of fans (and several onscreen alumni) vehemently disagreed with.
The fact Agents of S.H.I.E.L.D. featured Clark Gregg's Phil Coulson in the lead, referenced the events of the movies, and roped in several of their guest stars was the primary bone of contention, but things got a lot murkier when Daredevil stars Charlie Cox and Vincent D'Onofrio returned in Spider-Man: No Way Home and Hawkeye respectively, not to mention the events of the three-season Netflix hit being abridged on Marvel's official website.
As you can imagine, then, the fandom has been losing its mind after Disney Plus dropped a new promo poster for the Defenders Saga with a tantalizing tagline attached.
Click to zoom 
In all honesty, it wouldn't be too difficult for the MCU to largely ignore the events of the Netflix era, when they were largely self-contained street level stories. Viewers have noticed upon rewatching Daredevil, Jessica Jones, The Punisher, Iron Fist, Luke Cage, and The Defenders that they make a lot more references to the big screen escapades than they remember, though, so we're very curious to see how this all shakes out.
<![CDATA[var wgtc_related_posts = 'Related posts
'; 0) { for(i = 1; i 0) { if ( e.keyCode == 37 ) { jQuery('.wgtc-gallery–fullscreen').find('.bx-prev').click(); } else if( e.keyCode == 39 ) { jQuery('.wgtc-gallery–fullscreen').find('.bx-next').click(); } } else { if ( e.keyCode == 37 && jQuery('.top-pagination a.prev').length > 0) { //prev var prevUrl = jQuery('.top-pagination a.prev').attr('href'); switchPages(prevUrl); } else if( e.keyCode == 39 && jQuery('.top-pagination a.next').length > 0){ //next var nextUrl = jQuery('.top-pagination a.next').attr('href'); switchPages(nextUrl); } } }); var switchPages = function (href) { var addressValue = href; var pushAddress = addressValue.replace(/^.*//[^/]+/, ").substr(1); var normAddress = pushAddress.substr(0, pushAddress.length – 1); var address_array = normAddress.split("/"); var final_array = address_array[address_array.length-2]; var not_numeric = isNaN(final_array); var currentPageUrl = address_array.pop(); //Changed to isNumeric from parseInt because parseInt causes problems //returning to default content when page urls begin with a number if (!jQuery.isNumeric(currentPageUrl)) { currentPageUrl = 0; } var currentPage = 1; var pageLen = 1; var $post_content = jQuery('#post_content'); $post_content.addClass('loading').data('current-page', currentPageUrl ); if($vid_short_code.length > 0) { if(not_numeric == true) { $vid_short_code.css( "display", "block" ); } else { $vid_short_code.css( "display", "none" ); } } gtag('config', 'UA-17178859-1', { "page_path": pushAddress }); history.replaceState("", "", 'https://' + window.location.hostname + window.location.pathname); var pageOffset = jQuery('.post_pagination.top-pagination').offset().top – 90; if (pageOffset) { jQuery('html, body').animate({scrollTop: pageOffset+'px'}, 600); } var qparams = null; console.log(pageLen + 1); console.log(currentPageUrl); if (currentPageUrl == pageLen + 1) { // hide regular partner ads and show different IDs for tracking jQuery('.js-footer-zerg:eq(0)').css({ 'height': 0, 'width': 0, 'overflow': 'hidden' }); // grab pagination jQuery('.post_pagination .next').remove(); var paginationHtmlTop = $post_content.find('.post_pagination.top-pagination').html().replace('/'+(currentPageUrl-2)+'/', '/'+(currentPageUrl-1)+'/'); var paginationHtmlBottom = $post_content.find('.post_pagination.bottom').html().replace('/'+(currentPageUrl-2)+'/', '/'+(currentPageUrl-1)+'/'); // inject content // $post_content.removeClass('loading').html("+paginationHtmlTop+']]>
'+ // "+ // '
'+ // "+ // "+ // ' '+ // ' '+ // ' '+ // "); // launch zerg // if ( WGTCADS.isMobile ) { // (function () { // var zergnet = document.createElement('script'); // zergnet.type = 'text/javascript'; // zergnet.async = true; // zergnet.src = '//www.zergnet.com/zerg.js?id='; // var znscr = document.getElementsByTagName('script')[0]; // znscr.parentNode.insertBefore(zergnet, znscr); // })(); // } // else { // (function() { // var zergnet = document.createElement('script'); // zergnet.type = 'text/javascript'; zergnet.async = true; // zergnet.src = '//www.zergnet.com/zerg.js?id='; // var znscr = document.getElementsByTagName('script')[0]; // znscr.parentNode.insertBefore(zergnet, znscr); // })(); // } // hide next link jQuery('.post_pagination .next').parent().css('visibility', 'hidden'); refreshAds(); // tracking if (typeof window.parent.postMessage !== 'undefined') { parent.postMessage("encaction", "*"); // `*` on any domain } // hide other rows on mobile // if ( WGTCADS.isMobile ) { // jQuery('#zerglayout .zergentity:gt(1)').hide(); // } } else { /* jQuery.get(addressValue, qparams, function (result) { var this_result = jQuery(result); $post_content.removeClass('loading').html(this_result.find('#post_content').children()); this_result.find('#post_content > script').appendTo('#post_content'); if (currentPageUrl == pageLen + 1) { // hide regular partner ads and show different IDs for tracking jQuery('.js-footer-zerg:eq(0)').css({'height': 0, 'width': 0, 'overflow': 'hidden'}); } else { jQuery('.js-footer-zerg:eq(0)').css({'height': 'auto', 'width': 'auto', 'overflow': 'visible'}); } setTimeout(function () { loadTheSlider(); }, 1000); CMNUNT.refreshAds(); // tracking if (typeof window.parent.postMessage !== 'undefined') { parent.postMessage("encaction", "*"); // `*` on any domain } }, 'html'); */ jQuery.get(addressValue, qparams, function (result) { var this_result = jQuery(result); var video =this_result.find("[src*='content.jwplatform.com']"); if (video.length >0) { url = video[0].src; console.log(url); // var videourl = this_result.html().substr(video); var sc = $(").load(url, function () { var sub1 = sc.html().substring(sc.html().search('document.write')); var str = 'document.write'; if (sub1.charAt(sub1.search(";") – 4) == '"') { var sub2 = sub1.substring(28, sub1.search(";") – 4); } else { var sub2 = sub1.substring(25, sub1.search(";") – 10); } this_result.find('.wgtc-post-video').append(""); $post_content.removeClass('loading').html(this_result.find('#post_content').children()); this_result.find('#post_content > script').appendTo('#post_content'); if (currentPageUrl == pageLen + 1) { // hide regular partner ads and show different IDs for tracking jQuery('.js-footer-zerg:eq(0)').css({'height': 0, 'width': 0, 'overflow': 'hidden'}); } else { jQuery('.js-footer-zerg:eq(0)').css({ 'height': 'auto', 'width': 'auto', 'overflow': 'visible' }); } setTimeout(function () { loadTheSlider(); }, 1000); refreshAds(); // tracking if (typeof window.parent.postMessage !== 'undefined') { parent.postMessage("encaction", "*"); // `*` on any domain } }); } else { $post_content.removeClass('loading').html(this_result.find('#post_content').children()); this_result.find('#post_content > script').appendTo('#post_content'); if (currentPageUrl == pageLen + 1) { // hide regular partner ads and show different IDs for tracking jQuery('.js-footer-zerg:eq(0)').css({'height': 0, 'width': 0, 'overflow': 'hidden'}); } else { jQuery('.js-footer-zerg:eq(0)').css({ 'height': 'auto', 'width': 'auto', 'overflow': 'visible' }); } setTimeout(function () { loadTheSlider(); }, 1000); refreshAds(); // tracking if (typeof window.parent.postMessage !== 'undefined') { parent.postMessage("encaction", "*"); // `*` on any domain } } }, 'html'); /* jQuery.get('http://wegotthiscovered.com/testvido.html', qparams, function (result) { var this_result = jQuery(result); $post_content.removeClass('loading').html(this_result); // this_result.find('#post_content > script').appendTo('#post_content'); if (currentPageUrl == pageLen + 1) { // hide regular partner ads and show different IDs for tracking jQuery('.js-footer-zerg:eq(0)').css({'height': 0, 'width': 0, 'overflow': 'hidden'}); } else { jQuery('.js-footer-zerg:eq(0)').css({'height': 'auto', 'width': 'auto', 'overflow': 'visible'}); } setTimeout(function () { loadTheSlider(); }, 1000); CMNUNT.refreshAds(); // tracking if (typeof window.parent.postMessage !== 'undefined') { parent.postMessage("encaction", "*"); // `*` on any domain } }, 'html');*/ } }; if (typeof jwplayer == 'function') { if($vid_short_code.length > 0) { var address_href = window.location.pathname; var address_array = address_href.split("/"); var final_array = address_array[address_array.length-2]; var not_numeric = isNaN(final_array); if(not_numeric != true) { $vid_short_code.css( "display", "none" ); } } var playerInstance = jwplayer(0); var playerContainerEl = document.querySelector('.wgtc-post-video'); function getElementOffsetTop(el) { var boundingClientRect = el.getBoundingClientRect(); var bodyEl = document.body; var docEl = document.documentElement; var scrollTop = window.pageYOffset || docEl.scrollTop || bodyEl.scrollTop; var clientTop = docEl.clientTop || bodyEl.clientTop || 0; return Math.round(boundingClientRect.top + scrollTop – clientTop +700); } function getScrollTop() { var docEl = document.documentElement; return (window.pageYOffset || docEl.scrollTop) – (docEl.clientTop || 0); } var config = playerInstance.getConfig(); var utils = playerInstance.utils; // get height of player element // var playerHeight = config.containerHeight; // get player element position from top of document var playerOffsetTop = getElementOffsetTop(playerContainerEl); // set player container to match height of actual video element // this prevents container from disappearing and changing element positions // on page when player becomes minimized. this also leaves a nice visual // placeholder space for minimized player to return to when appropriate // playerContainerEl.style.height = playerHeight + 'px'; // below we handle window scroll event without killing performance // this is a minimal approach. please consider implementing something more extensive: // i.e. http://joji.me/en-us/blog/how-to-develop-high-performance-onscroll-event // determine player display when scroll event is called // if inline player is no longer visible in viewport, add class // .player-minimize to minimize and float. otherwise, remove the class to put // player back to inline inline position function onScrollViewHandler() { var minimize = getScrollTop() >= playerOffsetTop; if (!is_mobile()) { // utils.toggleClass(playerContainerEl, 'player-minimize', minimize); } // update the player's size so the controls are adjusted // playerInstance.resize(); } // namespace for whether or not we are waiting for setTimeout() to finish var isScrollTimeout = false; // window onscroll event handler window.onscroll = function() { // skip if we're waiting on a scroll update timeout to finish if (isScrollTimeout) return; // flag that a new timeout will begin isScrollTimeout = true; // otherwise, call scroll event view handler onScrollViewHandler(); // set new timeout setTimeout(function() { // reset timeout flag to false (no longer waiting) isScrollTimeout = false; }, 80); }; } }); function setCookie(cname, cvalue, exdays) { var d = new Date(); d.setTime(d.getTime() + (exdays*24*60*60*1000)); var expires = "expires="+d.toUTCString(); document.cookie = cname + "=" + cvalue + "; " + expires + "; path=/"; } function getCookie(cname) { var name = cname + "="; var ca = document.cookie.split(';'); for(var i=0; i 0 && jQuery('.gallery-slider .slider-list').length > 0){ var gallerySlideCount = jQuery('.gallery-slider .slider-list li').length; gallerySlider = jQuery('.gallery-slider .slider-list').bxSlider({ adaptiveHeight: true, preloadImages: 'all', pagerCustom: '#thumbnails', mode:'fade', prevText:", nextText:", nextSelector:'.control.next', prevSelector:'.control.prev', onSliderLoad: function (currentIndex) { var slideCount = gallerySlideCount; /* lazy loading */ var direction = 1; var $sliderImgs = jQuery(".slider-list li img"); var $curImg = $sliderImgs.eq(currentIndex); if ($curImg && $curImg.hasClass('lazy')) { $curImg.attr('src', $curImg.data('src')).one('load', function () { jQuery(this).removeClass('lazy'); gallerySlider.reloadSlider(); }); } var $nextImg = $sliderImgs.eq(currentIndex+direction); if ($nextImg && $nextImg.hasClass('lazy')) { $nextImg.attr('src', $nextImg.data('src')).one('load', function () { jQuery(this).removeClass('lazy'); }); } /* end lazy loading */ jQuery('.js-image-count').html( (currentIndex+1) + ' of ' + slideCount ); jQuery('.gallery-slider .gallery-slider-wrap').css('height', 'auto'); if(currentIndex > 0) { changeHash(currentIndex); } if (currentIndex == 0) { jQuery('.control.prev').hide(); } else { jQuery('.control.prev').show(); } jQuery('.caption-item[data-index='+currentIndex+']').show(); }, onSlideBefore: function (ele, oI, nI) { var slideCount = gallerySlideCount; /* lazy loading */ var direction = nI – oI; var $sliderImgs = jQuery(".slider-list li img"); var $curImg = $sliderImgs.eq(nI); if ($curImg.hasClass('lazy')) { $curImg.attr('src', $curImg.data('src')).one('load', function () { jQuery(this).removeClass('lazy'); gallerySlider.resizeSlider(); }); } var $nextImg = $sliderImgs.eq(nI+direction); if ($nextImg && $nextImg.hasClass('lazy')) { $nextImg.attr('src', $nextImg.data('src')).one('load', function () { jQuery(this).removeClass('lazy'); gallerySlider.resizeSlider(); }); } /* end lazy loading */ jQuery('.js-image-count').html( (nI+1) + ' of ' + slideCount ); var galleryOffset = jQuery(ele).parents('.gallery-wrap').offset().top – 50; if (galleryOffset) { jQuery('html, body').animate({scrollTop: galleryOffset+'px'}, 600); } if(nI > 0) { changeHash(nI); } else { changeHash("); } if ((oI+1) == slideCount && (nI+1) == (slideCount-1)) { // _gaq.push(['_trackEvent', 'GalBackLastPage', 'clickEvent', 'Went back on gallery last page']); // ga('send', 'event','GalBackLastPage' , 'clickEvent', 'Went back on gallery last page'); } if (nI == 0) { jQuery('.control.prev').hide(); } else { jQuery('.control.prev').show(); } jQuery('.caption-item').hide(); jQuery('.caption-item[data-index='+nI+']').show(); /* CMNUNT.refreshAds([ 'ads-desktop-btf-leaderboard', 'ads-desk-square-1', 'ads-desk-square-2', 'cmn_ad_toolbar', 'top', 'ads-mobile-square-1', 'ads-mobile-square-2', 'ads-mobile-square-3', 'ads-mobile-square-4', 'ads-mobile-square-end', 'toolbar']);*/ refreshAds(); // tracking if (typeof window.parent.postMessage !== 'undefined') { parent.postMessage("encaction","*"); // `*` on any domain } } }); } } function refreshAds () { if ( WGTCADS.isMobile ) { freestar.freestarReloadAdSlot([ "wegotthiscovered_300x250_incontent", "wegotthiscovered_300x600_300x250_Sidebar_4", "wegotthiscovered_728x90_970x250_970x90_320x50_ATF", "wegotthiscovered_300x250_incontent_2", "wegotthiscovered_728x90_320x50_Adhesion", "wegotthiscovered_300x250_Mobile_Footer", "freestar-slot-footer-ad" ]); } else { cpmstarAPI({ kind:"refresh", data:{ modules:[ "sidebar1", "sidebar2", "sidebar3", "sidebar4", "atf", "728x90adhesion" ] } }); } } function changeHash( index ){ var pushAddress, hashnohash; if (index == ") { window.history.pushState({},"", 'https://' + window.location.hostname + window.location.pathname); pushAddress = location.pathname + location.search + 'wgtc-gallery/'; } else { window.location.hash = index; hashnohash = window.location.hash.substr(1); pushAddress = location.pathname + location.search + 'wgtc-gallery/' + hashnohash + '/'; } //pushAddress = addressValue.replace(/^.*//[^/]+/, ").substr(1); gtag('config', 'UA-17178859-1', { "page_path": pushAddress }); }