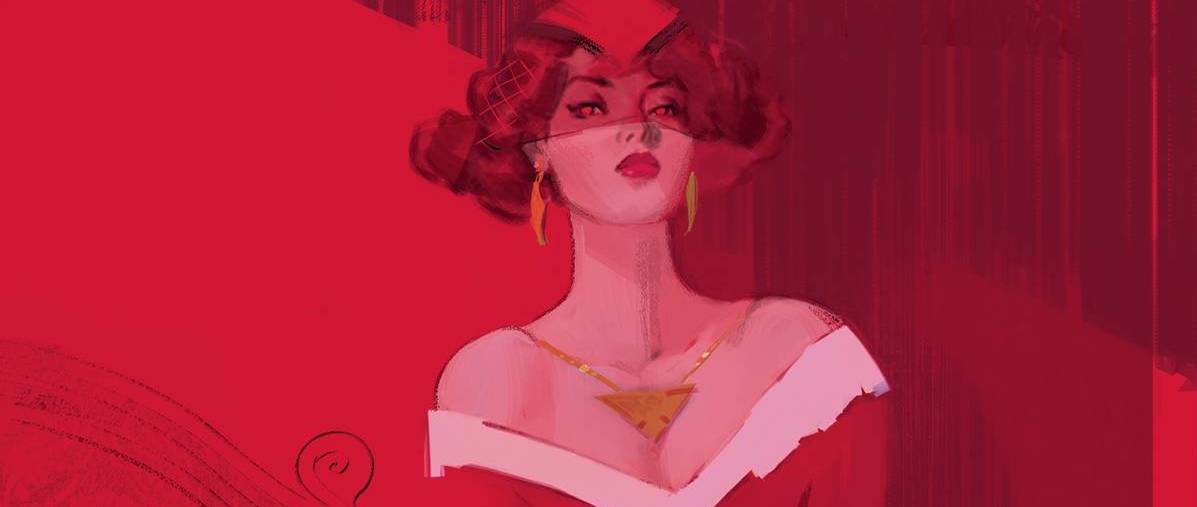 As much as the many multi-versal stories that seems to be all the rage, from nearly every publisher, has annoyed me of late, it is safe to say the best of the bunch, for me at least, was Vampiverse.  For those that missed this Vampi-tastic mini series, the story was quite simple; one big bad Vampirella was out to kill all the Vampirella's from the multiverse and absorb their power.  The Vamp was one such Vampirella!
The Vamp was probably the breakout Vampi of the series to be honest.  One part 1930's moll, one part long coat but all Vampi, The Vamp has earned this little revisit, and with her creators Tom Sniegoski and Jeannine Acheson on board, you know it's going to be a fun ride.
Tom Sniegoski and Jeannine Acheson have become something of a writing duo when it comes to Vampi.  Since working together on a Valentine special, the pair have become quite inseparable.  It's a team that has yet to misfire when in this particular arena.  Here, they have to walk something of a tightrope of sorts;  there is an origin to deal with, a real time problem and weight to build in; thats quite a lot to fit into just one issue, even with a larger than most page count.  With all these factors vying for attention the book does feel a little front end heavy.  Sometime less is not actually more, especially as  a two issue series could have served the purpose better, allowing for greater development spread over more pages.  Once the origin is out of the way it is on to the action of which there is plenty.  The book reads well, capturing the pulp feel you would expect.
The art is supplied by Vampirverse artist Daniel Maine and in a similar vein, the art is also a little mixed.  There is a distinct Carmen San Diego look to the first act with a cartoon feel.  things improve during the origin section, before taking an Adam Hughes look to Vamp's face and postures.  When the art finds its form, proverbially, the book delivers on all counts.  Colors are provided by Francesca Cittarelli who uses a scheme that is a tad too colourful to wholly fit the 1930's theme.  Letterer guru Taylor Esposito displays his considerable skills, especially with the verbiage in the first act.  Its a Dynamite book, so there are a few covers; I have to say that the main cover is so awful, that even the allure of a thigh high stocking, not seen in the book by the way, can save it.
The Vamp is a great idea, a new twist on an existing character that is just different enough to the original, in both look and environs, that it can feel fresh.  I do wish that the story was spread over two issue; perhaps with more pages the greater development would have lead to a more balanced reading experience.
Writing – 4 Stars
Art – 3 Stars
Colors – 3.5 Stars
Overall – 3.5 Stars
Written by; Tom Sniegoski & Jeannine Acheson
Art by; Daniel Maine
Colors by; Francesca Cittarelli
Letters by; Taylor Esposito
Published by; Dynamite Entertainment
About Post Author
I am a long time comic book fan, being first introduced to Batman in the mid to late 70's. This led to a appreciation of classic artists like Neal Adams and Jim Aparo. Moving through the decades that followed, I have a working knowledge of a huge raft of characters with a fondness for old school characters like JSA and The Shadow
Currently reading a slew of Bat Books, enjoying a mini Marvel revival, and the host of The Definative Crusade and Outside the Panels whilst also appearing on No-Prize Podcast on the Undercover Capes Podcast Network
Continue Reading