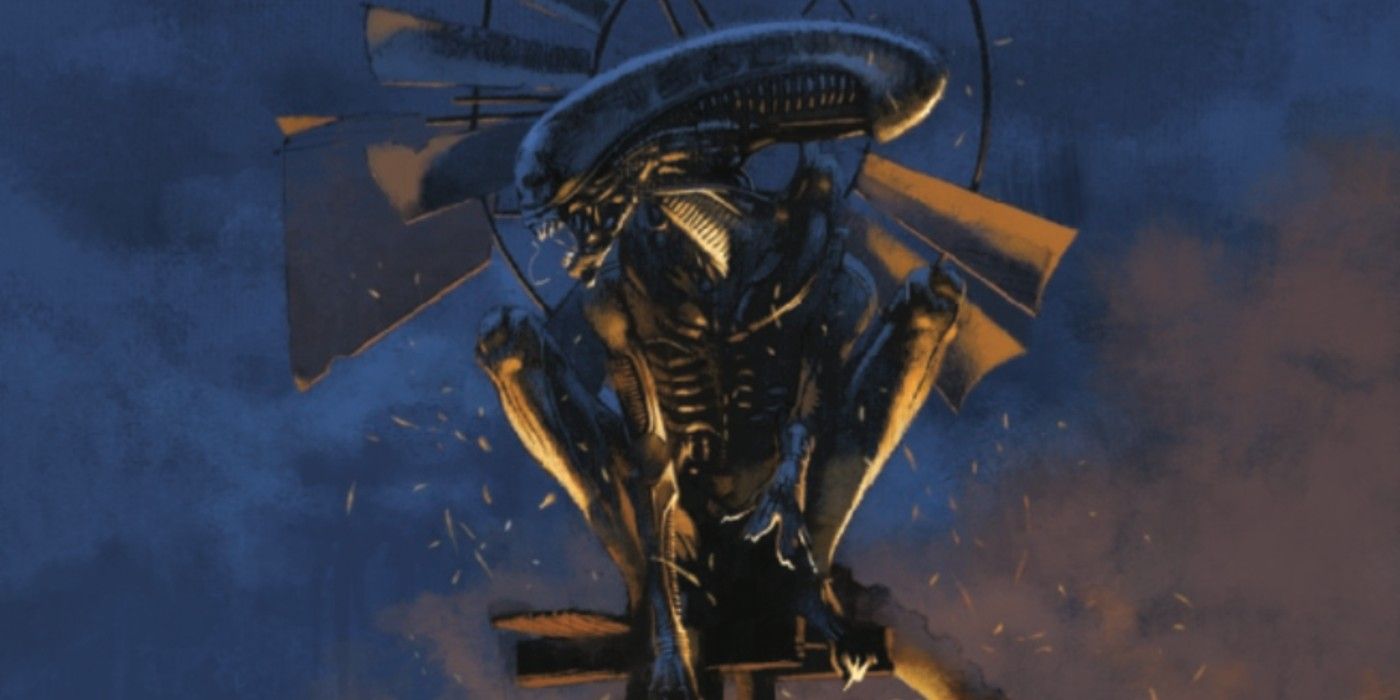 Even when on Earth, Alien Xenomorphs typically stick to cold, dark, machine-like settings. The Alien comic changes that by having them hunt rurally.
Warning: contains spoilers for Alien #9
Fans have seen Xenomorphs hunt in all sorts of environments, but there is still one that hasn't been explored until the Alien comics. It happens in issue 9, which is part 3 of a 6 part story arc entitled "Revival." The issue was written by Philip Kennedy Johnson and illustrated by Salvador Larroca.
The story continues two years after the last arc's conclusion. It takes place on a moon settlement called Euridice, which has recently finished terraforming its environment. They were expecting a ship from their company to arrive. Instead, a ship named the Heraclides crash-landed and a swarm of Xenomorphs poured out of it. Any fan of Alien knows what comes next.
SCREENRANT VIDEO OF THE DAY
Related: Alien: The Xenomorphs' Grossest Evolution Ripped Off Marvel's X-Men
Although it's not Earth, the story arc takes place in a very rural, Earth-like setting. There are cornfields and cabins for the aliens to hunt in. This is opposed to the rough, hard, and cold metal hallways of the spaceships fans are used to seeing the Xenomorphs kill their prey in. While reading the story, it's hard not to imagine that it's taking place in Kansas or the Russian countryside. Perhaps the story's setting was picked by design so that fans can finally see what it would be like if a Xenomorph-infested ship crash-landed on today's Earth rather than a futuristic city, which is what the Earth has become in the Alien universe.
Of course, Alien stories in the past have tried to bring Xenomorphs to present-day Earth before. Most notably, the two Alien vs Predator movies tried their hands at this task. But in reality, they cheated. The first Alien vs Predator film took place in isolated Antarctica. Not just that, though, it took place in an underground temple in Antarctica. It was a way to separate the Xenomorphs from a civilized setting. But Antarctica is alien-like in its own way. It could have just as easily been a separate icy planet besides Earth. Putting it on an Earth-like setting grounds the story in a way that few Alien stories have before.
The second film, Alien vs Predator: Requiem, should get credit for moving the battle to a populated area. But once again, the film cheated by placing its battles in other space-like settings such as a power plant and the sewers. The filmmakers did this because they felt it would have been strange seeing Xenomorphs hunt out in the open. But the Alien comic shows that there's nothing more perfect for these extraterrestrial predators than cornfields and meadows.
Next: Alien Confirmed Xenomorphs' Predatory Instincts Are Their Kryptonite
Spider-Man's MCU Nightmare Has Taken Over Marvel Comics
About The Author Frank Martin (105 Articles Published)
Frank Martin is a comic writer and author who is not as crazy as his work makes him out to be. He's written the one-shot comics Macabre Motel and Grimm Space as well as the 2-part stories Polar Paradox, Pipe Creepers, and The Last Homicide. Frank's novels include the YA sci-fi thriller Predestiny published by Crossroads Press, the lake monster tale Oscawana published by Severed Press, among others. His work on Screen Rant primarily focuses on comics. Frank currently lives in New York with his wife and three kids.