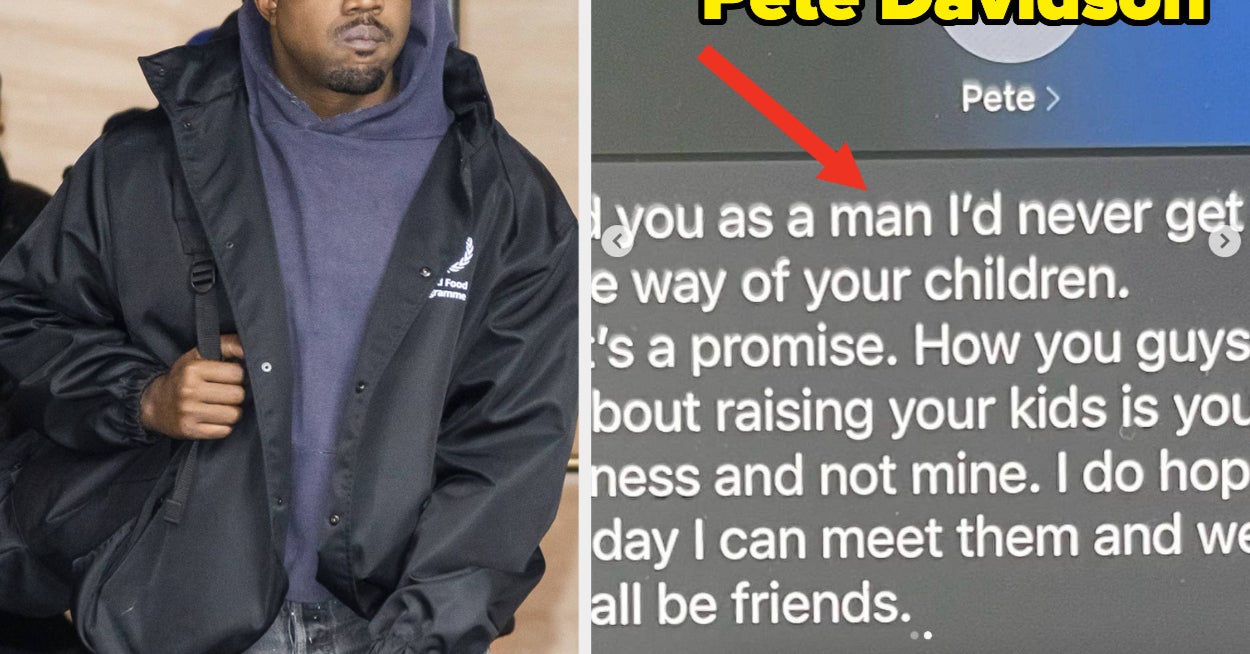 This weekend, Kanye West took things to the next level with a series of posts about, well, a lot of famous people. Some have been deleted; some have not been. He has posted this photo, ensuring everyone that he's the one posting — not a hacker:
Here are some of the celebs he's called out and mentioned:
1. He posted a paparazzi photo of Pete Davidson, who's dating his soon-to-be-ex-wife, Kim Kardashian. Kanye called him a "dickhead," and said he's "Hillary Clinton's ex-boyfriend":
@kanyewest / Via instagram.com
Pete, an outspoken supporter of Hillary, met her at Aretha Franklin's funeral. However, he did reveal last year that he's currently undergoing laser tattoo removal for the bulk of his tattoos.
2. As "proof," Kanye shared a screenshot of Pete's old Instagram of his Hillary tattoo:
"Y'all seen that tattoo, but if I speak up, then I'm crazy. I told you not going to use that one no more. When a garbage man goes to work, he gonna smell like trash. But it's time to take the trash out the house," he said.
3. He then posted this "Fight Night" image of him against Pete:
He captioned the photo, "This ain't about Skete [Pete], people. It's about selling y'all a narrative. Skete just playing his part in Frozen 3 — except it's not in the theaters. This time, it's on Daily Mail. Tell Bob and the entire Disney staff you wasted your money on Star Wars and Marvel — because even though it makes money, you will never control the high schools."
4. In that same post, he threw a jab at Pete's bestie, Machine Gun Kelly, writing, "No one's ever heard a Machine Gun Kelly song, Bob."
Kevin Mazur / Getty Images for MTV/ViacomCBS
5. He then shared this unfounded, debunked, disturbing rumor about Pete Davidson:
6. Next was this screenshot of Pete and Machine Gun Kelly in their underwear for their promotional Calvin Klein IG Live:
7. And in the same post, he shared a cropped screenshot of a text message he allegedly received from Pete. The text appears to read, "I'd never get in the way of your children… I do hope one day I can meet them and we can all be friends."
@kanyewest / Via Instagram: @kanyewest
I had to guess a few words, but you can interpret as you see fit. 
8. These posts about Pete follow a series of strange call-outs. For example, Kanye posted a headline about Billie Eilish helping a fan, which he interpreted as shade to Travis Scott:
@kanyewest / Via instagram.com
During her concert, Billie noticed a fan struggling to breathe and had someone give her an inhaler. Billie said: "I wait for the people to be OK before I keep going." Kanye saw this as Billie shading Travis Scott, who faced immense backlash for the infamous Astroworld tragedy of 2021, which left 10 dead and hundreds of people hurt. Kanye then said he would not perform at Coachella unless Billie apologized. The above picture is how Billie replied to that.
9. Kanye posted about kicking Kid Cudi off his upcoming album:
@kanyewest / Via instagram.com
Kanye told his followers that Kid Cudi — who he was friends with and performed with — will not be on his upcoming album, since he's friends with Pete Davidson.
Cudi responded with this:
10. Kanye has also deleted this post of an edited Captain America: Civil War graphic. On the Kanye side — Drake, Julia Fox, Travis Scott, and Future. On the Pete Davidson side — Kim Kardashian, Kid Cudi, Billie Eilish, and Taylor Swift.
Kanye West shares edited 'Captain America: Civil War' poster on Instagram featuring: • Drake • Julia Fox • Travis Scott • Future • Pete Davidson • Kim Kardashian • Kid Cudi • Billie Eilish • Taylor Swift
Twitter: @PopCrave / Via BFA / Alamy
The caption said, "The internet has still not found a different picture of Skete."
11. He also deleted this photo, where he crosses out Pete's face:
Kanye West crosses out Pete Davidson from Instagram photo: "I JUST WANTED MY FRIEND TO HAVE MY BACK THE KNIFE JUST GOES IN DEEPER"
"I just wanted my friend to have my back. The knife just goes in deeper," he captioned the photo.
12. Last week, Kanye expressed his frustration with Kim allowing North to use TikTok. And despite Kim releasing a statement about wanting to keep their divorce private, Kanye posted tweets of Candace Owens, who also criticized Kim's parenting:
Edward Berthelot / GC Images / Getty Images / Via Frazer Harrison/Getty ImagesFrazer Harrison/Getty Images
13. He then posted and deleted these screenshots of Kim's cousin, Kara, who contacted him and even appeared to ask for Yeezys:
Kanye West alleges that Kim Kardashian accused him of "putting a hit out on her": "THESE IDEAS CAN ACTUALLY GET SOMEONE LOCKED UP. THEY PLAY LIKE THAT WITH BLACK MENS LIVES WEATHER ITS GETTING THEM FREE OR GETTING THEM LOCKED UP IM NOT PLAYING ABOUT MY BLACK CHILDREN ANYMORE"
Frazer Harrison / Getty Images
"This is an example of Kim's cousin agreeing with me about TikTok, then proceeding to ask me for some Yeezys afterwards," he wrote.
14. He then posted this screenshot him asking for Kim's number, and in the caption, he said Kim had accused him of putting a hit out on her:
@kanyewest / Via Instagram: @kanyewest
"Now, I'm being accused of putting a hit on her. These ideas can actually get someone locked up. They play like that with Black men's lives, whether it's getting them free or getting them locked up. I'm not playing about my Black children anymore," he wrote.
So yeah, it's been a loooong week. Besides Kim, Billie, and Cudi, none of the celebs mentioned above have responded. But if they do, we'll be sure to update you.
BuzzFeed Daily
Keep up with the latest daily buzz with the BuzzFeed Daily newsletter!