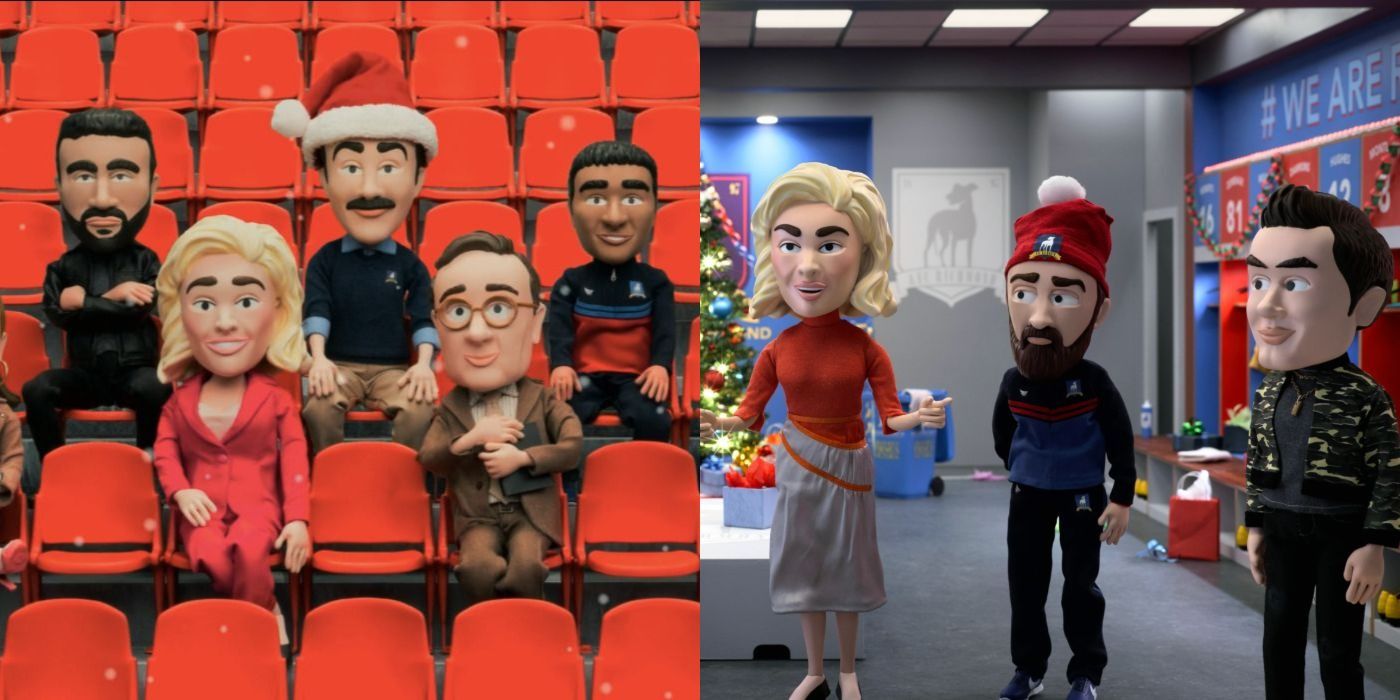 As Ted Lasso proved with the season 2 episode "Carol of the Bells," the show's optimism and feel-good nature make it an excellent match for holiday-themed programing. It is no surprise then that Apple TV+ has recently released a new 4 minute Ted Lasso holiday animated special titled The Missing Christmas Mustache in which Ted's mustache disappears, prompting his friends to help him search for it.
RELATED: 15 Fun Facts About Ted Lasso
Playing off of the classic Rankin/Bass Christmas specials, the special uses retro-feeling stop motion animation to tell a fun little story filled with plenty of the show's signature humor as well as heartfelt moments and messages.
SCREENRANT VIDEO OF THE DAY
The Animation
The most striking aspect of the special is the animation. Considering that Ted Lasso is a live-action show, there is something fun and special about seeing these beloved characters rendered in an animated special.
Additionally, the stop motion style of animation is used intentionally to evoke the classic animated Christmas specials such as Rudolph the Red-Nosed Reindeer and Santa Claus is Comin' to Town. The decision to make the special animated rather than live-action also allows for the fun but less-than-realistic premise of Ted's mustache disappearing.
The Theme Song
Performed by Tom Howe and Marcus Mumford of Mumford & Sons fame, the Ted Lasso theme song is one of the most recognizable elements of the show. It sets the tone for every episode with lyrics about proving everyone wrong and trying as hard as possible.
The animated special features a slightly different version of the theme song as jingle bells give it a more Christmasy feel. Additionally, the special also recreates the theme song sequence in which Ted takes a seat in the empty stadium bleachers, but this time he is joined by all of his friends as snow falls around them.
The Humor
Ted Lasso is filled with hilarious characters and the animated special perfectly captures the unique sense of humor that each of them brings to the show. In just a few minutes, the special is able to showcase Roy's gruffness, Jamie's conceitedness, and Ted's pop culture references.
RELATED: The 10 Best Episodes Of Ted Lasso, According To IMDb
Despite the short runtime, the special is still able to deliver some solid laughs. Stand-out comedic moments include Jamie always carrying a mirror with him, Ted comparing Scrooge to a "straight, white, cisgender male" version of the Grinch, and Nate building a kill trap to capture Ted's mustache.
Coach Beard's Disguise Kit
As the group is searching for Ted's mustache, Coach Beard has the idea to use his disguise kit to give Ted a fake beard to replace the mustache. Coach Beard is one of the more private and enigmatic characters in the show, but if the season 2 episode "Beard After Hours" is any indication, he lives an eventful and wild lifestyle.
Because of this, it makes sense that he would carry around a disguise kit. When questioned about why he has the kit, Coach Beard has a dry, snarky response ready that is perfectly in line with his character. It is a funny bit that is true to his personality.
Roy's Hair
Taking advantage of the animated medium, Roy's solution to Ted's problem involves ripping off his own eyebrows and attaching them to Ted's face as a mustache, which leads Ted to remark about how he looks like Tom Selleck. When Keeley says she misses his eyebrows, Roy demonstrates the ability to grow them back on command.
Roy is a tough and manly character, so the idea that he can sprout facial hair at will is hilariously fitting. He often has some of the best scenes and quotes in Ted Lasso, so seeing him get this fun moment in the special is a treat for fans.
Ted's Different Mustaches
Ted's mustache is one of the most iconic aspects of his appearance so its sudden disappearance causes him to scramble to find a replacement so his son will recognize him when they FaceTime. This leads to some fun moments where he tries out different looks including a Tom Selleck mustache, a Clark Gable mustache, and a full beard.
RELATED: 5 Reasons Rudolph Is The Definitive Christmas Special (& 5 Why It's Frosty The Snowman)
Getting to see Ted experiment with his look and change up his signature appearance is a fun bit that sets up some funny responses from the rest of the group, like Leslie Higgins quoting Gone with the Wind.
Nathan's Return
In a surprising turn of events, season 2 sees the underdog turned coach Nathan Shelley become one of Ted Lasso's unexpected villains. While this twist is clearly going to be explored more in the future, the animated special is apparently set some time before his betrayal as he appears in the special as part of the group trying to help Ted.
Although his resentment of Ted and subsequent decision to take a job working for Rupert is an interesting story decision, it is great to see the old dynamic between Nathan and the other Diamond Dogs.
The Message
Some of the things that fans love most about Ted Lasso are its inspirational quotes and feel-good messages. The animated special is no exception and manages to deliver a sweet and heart-warming message despite the silly premise and short runtime.
As Ted comes to terms with not having his mustache, he delivers the special's message by saying that the point of the holiday is not about making Christmas perfect for the people you love, but rather, "It's the people you love that make Christmas perfect." His realization is a genuine and inspiring reminder to the audience that ends the special on a feel-good note.
NEXT: Which Classic Christmas Special Should You Watch, Based On Your Zodiac Sign?
Moon Knight Is A Limited Series Says Oscar Isaac
About The Author Shane Redding (232 Articles Published)
Shane Redding is a writer based in Nevada, United States. He received a Master's Degree from the New York Film Academy in Los Angeles, California. He now works as a Screen Rant List Writer for Valnet, Inc. In his free time, he enjoys playing and watching sports, theme parks, escape rooms, board games, and spending time with family