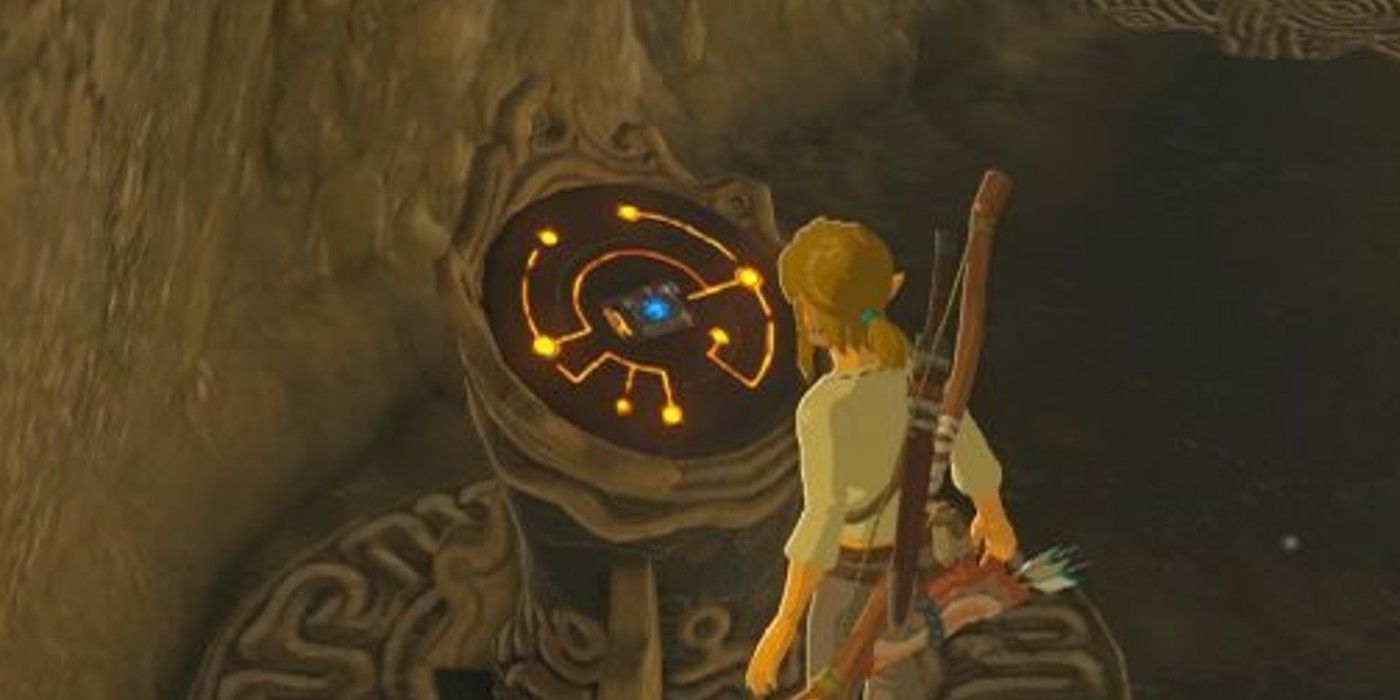 "It's dangerous to go alone" is an iconic line from the first Legend of Zelda game, and it's cleverly hidden in Breath of the Wild as well.
The world of The Legend of Zelda: Breath of the Wild is filled with Easter eggs, including a callback to the first game's iconic "It's dangerous to go alone" line. Although many players may have discovered this particular BOTW Easter egg already, this game's version of Hyrule is vast, so there's almost always something new to find (and to miss). For those who missed out on this particular callback already, here's where to find the "It's dangerous to go alone" Easter egg in BOTW.
For a game that was released in 2017, Breath of the Wild is almost always making headlines because of players finding new references or ways to solve the game's many puzzles. Even glitches found in BOTW can make the game more interesting, as players find creative ways to get through Ancient Shrines and the overworld's obstacles. There are countless BOTW Easter eggs that can get overlooked if players only concentrate on the main story or miss exploring a certain area of Hyrule's map.
SCREENRANT VIDEO OF THE DAY
Related: Will There Be New Divine Beasts In Breath Of The Wild 2?
The "It's dangerous to go alone" Easter egg is one of the most easily missable callbacks in Breath of the Wild. The line, which debuted in the first Legend of Zelda game, warned players of the many dangers Link would face. As in that first game, the line can be found from early on in BOTW and can help prepare players for the numerous deaths Link will likely incur in-game while they learn the ropes of exploration and combat.
BOTW's "It's Dangerous To Go Alone" Easter Egg Is Hidden Within Link's Sheikah Slate
Early on in BOTW's story, Link will receive the Sheikah Slate, the smartphone-like device that helps players identity landmarks, view the map, and use a host of interesting abilities. The Sheikah Slate, much like certain areas, will have Hylian text displayed that players may not immediately notice or much less understand. However, one Sheikah Slate detail in BOTW reveals the hidden message, "It's dangerous to go alone."
To view this message, players will need to pull up the Sheikah Slate and view the text on the map marker. This appears when Link is gazing through the Sheikah Slate's scope in BOTW. The pins will read "It's Dangerous To Go Alone." It's a clever callback to one of the most iconic lines in video games, and it's pretty well-hidden for players who may not translate the Hylian text. Still, it's a fun way to reference the first entry in the series and a nice wink to longtime fans in The Legend of Zelda: Breath of the Wild.
Next: What Zelda's Game Awards Absence Could Mean For BOTW 2 Release Date
Witcher 3 Gets Henry Cavill's Netflix Gear Thanks To Mod
About The Author

Austin King (1170 Articles Published)
Austin King is a Game Features Editor at Screen Rant. He's the author of several books and hosts the Dragon Quest FM and JRPGs & Me podcasts. You can find him on Twitter @DragonQuaustin.