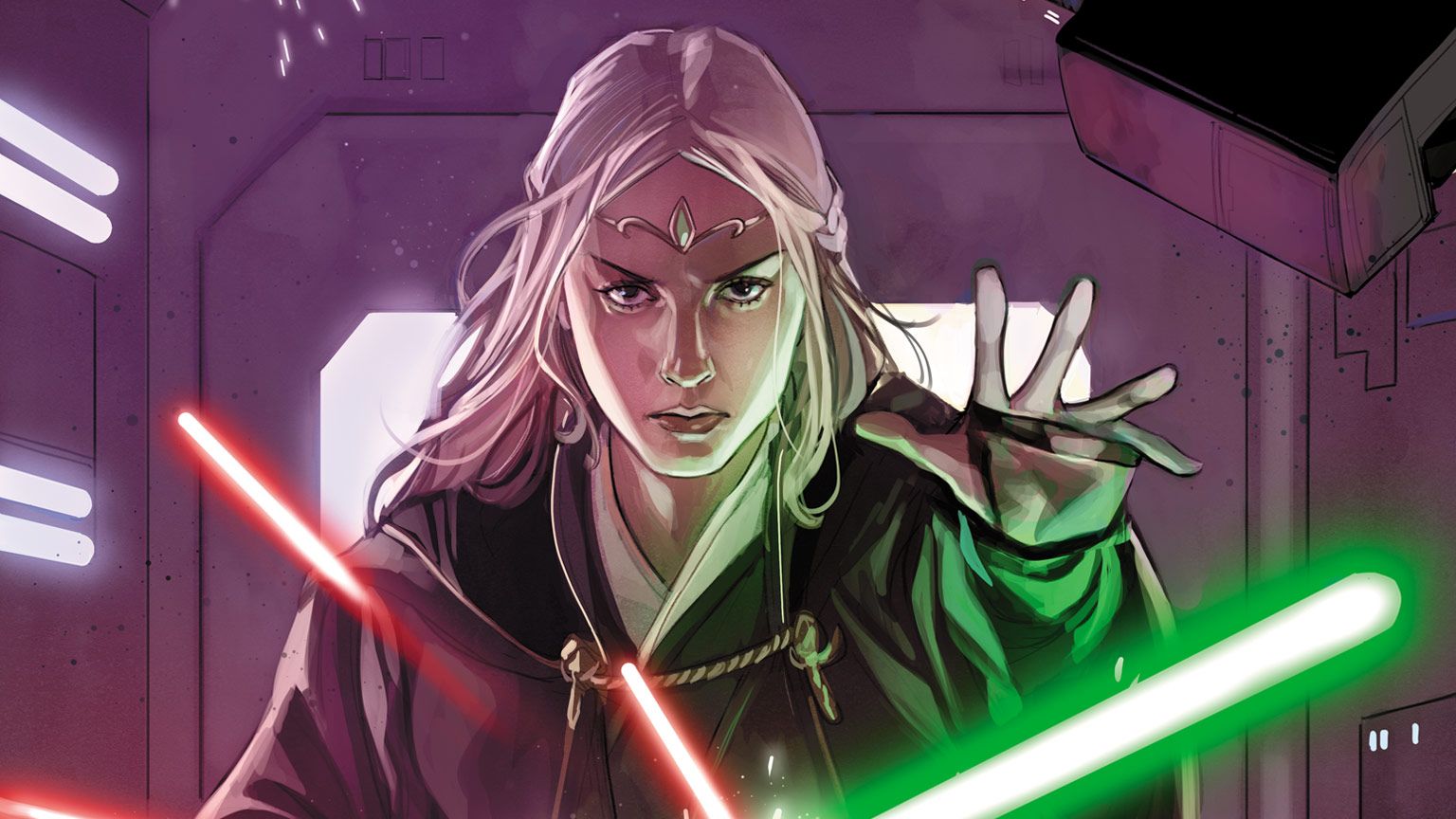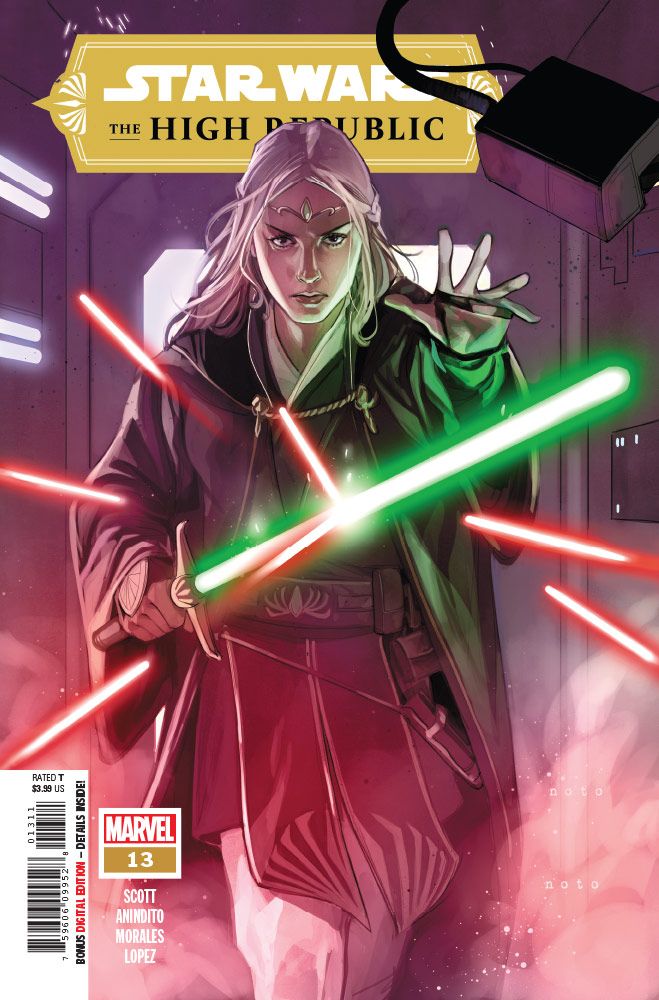 With The High Republic #13 Cavan Scott and Ario Anindito bring us a vital event in The High Republic epic with style, energy and suspense. It's not clear what good we did to deserve Cavan Scott and Ario Anindito's incredible Star Wars High Republic run but the gifts keep coming. Scott and Anindito continue to deliver strong characterization, art filled with depth and energy and huge stakes.
This issue works on two fronts with the first being a massive battle against Lourna Dee and Zeetar's forces. The second is a battle for the heart of Avar Kriss herself. The High Republic saga has had a triumvirate of Masters at its heart and we have slowly seen all of them challenged by the dark side. This issue deals with the heart of the Jedi as Avar falls.
As a childhood song plays in the background seemingly clouding their connection to the Force, Jedi are falling to doubt and madness. We have already seen attachment, lust, pride and anger gain hold of the Jedi. Avar has watched the Terec and Ceret be frozen in stone as occurred to Loden Greatstorm before them. This coupled by her distance from the Force leads to a massive buildup of a mad thirst for revenge.
The issue begins with Marchion Ro making it clear to Lourna Dee and Zeetar that he has no interest in protecting them. He abandons them as a means of distracting the Jedi. The Jedi attack the Tempest under the mistaken impression that Lourna Dee is the leader of the Nihil. Avar, who just took away Sskeer's standing as a Jedi due to his own darkness, rapidly falls into the darkness herself. As they attack the Nihil she cuts through them with pure anger and vengeance blinding her in spite of Keeve's efforts to pull her back.
We have not had a chance to truly see the might of Avar but this issue makes clear just how powerful she has become. After taking down Zeetar and most of the Nihil, Avar faces off with Lourna Dee and tears apart her battle suit. She then amputates her and ends the issue about to make the killing blow.
The art delivers on every front, massive lightsaber battles, incredible ferocity, great character work and incredible colors. The inks by Mark Morales and colors by Carlos Lopez work in perfect concert with the art to elevate the entire issue. This team has been building momentum over the past year and it's nice to see that an issue this far into the run is one of the best.
It's impossible to reach the end of the issue and not want to pick up the next chapter. The scope, artistry and excitement of The High Republic has really built up over the past year and this comic has been on the forefront in both quality and importance. It is such a gift to have comic books be such a vital part of world-building for the larger Star Wars universe. 
Writing: 5 of 5 stars
Art: 4.7 of 5 stars
Colors: 4.8 of 5 stars
Overall: 4.8 of 5 stars
Writer: Cavan Scott
Art: Ario Anindito
Inks: Mark Morales
Colors: Carlos Lopez
Publisher: Marvel Comics
About Post Author
M.R. Jafri was born and raised in Niagara Falls New York and now lives with his family in Detroit Michigan. He's a talkative introvert and argumentative geek. His loves include Star Wars, Star Trek, Superheroes, Ninja Turtles, Power Rangers, Transformers, GI Joe, Films, Comics, TV Shows, Action Figures and Twizzlers.
Continue Reading