Now that we've all had a chance to see Spider-Man: No Way Home, the full movie, and those crazy post-credit scenes, let's dive into a review. Because let's face it, we need to discuss the insanity of this film. From the mirror dimension Doctor Strange and Spider-Mn battle in, to the death of…well, if you know, you know. If you don't, then you probably shouldn't read any further. We're breaking all the rules of the multiverse here.
Spider-Man: No Way Home Spoiler Reviews are Coming Through – "And I Can't Stop Them!"
(Image: Sony Pictures)
We mostly knew the movie's plot beforehand, but it's always a little more complicated than the trailers let on. In this case, the problem isn't just the fact that six Spider-Man-connected villains came into the MCU; it's what Peter wanted to do with them. Now, before you go, "Um, there were only five," you forgot one person: Venom.
When Peter finds out that most of them die fighting the Spider-Men of their universes, he doesn't want to send them back. Four out of the six characters that broke through the multiverse will die almost immediately if he does. Doctor Octopus says that he had Spider-Man in his grasp before he just appeared in the wrong universe. Now, how did Otto Octavius know
that Peter was on the bridge? Not clear. But how else are we going to get an incredible bridge battle? It's a franchise requirement. Spider-Man (2002) had the Brooklyn Bridge. Amazing Spider-Man had the Queensboro Bridge. Far From Home had the London Bridge. And now, No Way Home has the Alexander Hamilton Bridge. Where Spider-Man 2 had the best train fight sequence ever made, No Way Home has the best bridge fight – both involving Alfred Molina's Doctor Octopus.
Once he rounds up the five villains he knows about, he wants to cure them instead of sending them back to die. So, can Peter cure all of them? Well…
How Exactly Did These Villains Enter the MCU? Spider-Man: No Way Home Marketing Division! And Other Reasons Too.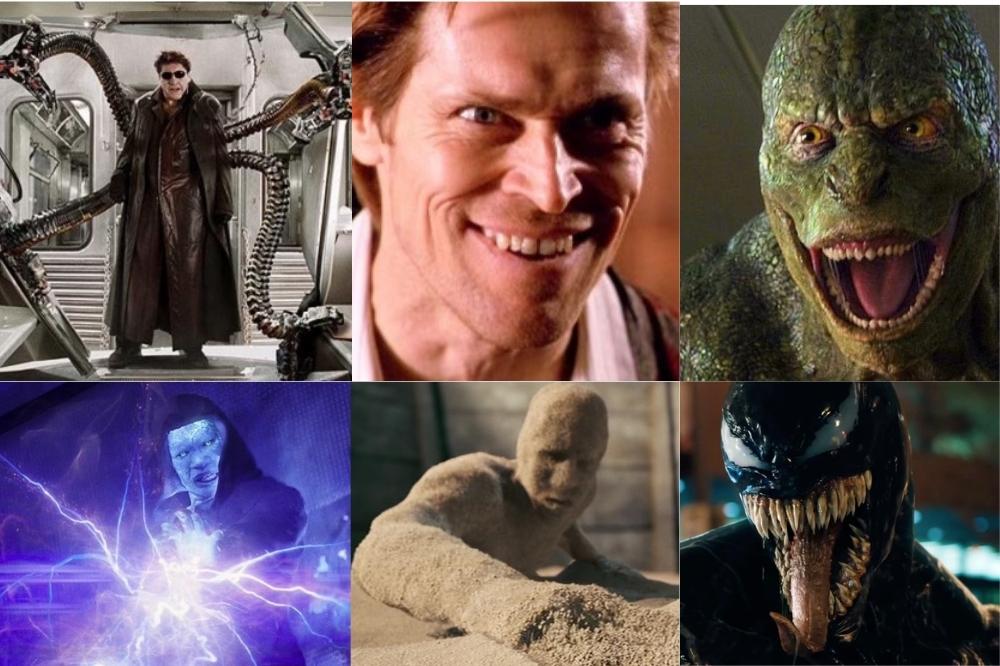 (Images: Sony Pictures)
So, yes, Peter botched what was supposed to be an easy spell. In the trailers, they made it look like it was forbidden. But we find out that sorcerers use it all the time, but usually for inconsequential things, such as forgetting a crazy party. Also, the scene with Wong was a red herring. In the actual scene, he says, "Just leave me out of this." Sure enough, he's gone for the rest of the movie. Worry not, dear readers! Another mage takes his place.
As Doctor Strange starts the spell, Peter starts asking for changes, as we saw. First, he wants MJ to remember, and Strange complies. Then Ned, and Strange again alters the spell but says he can't do it again. But then Peter keeps going, asking for Aunt May. Finally, the request that destroys the spell and cracks open the multiverse? Happy Hogan.
After Spider-Man fights Doc Ock on the Alexander Hamilton Bridge, Strange teleports him back to his underground crypt – just before the Green Goblin flies right into him. But how did Doc Ock, Green Goblin, and the Lizard (who Strange already captured in a fight scene we were robbed of) get to the MCU? Because when Peter botched the spell, instead of everyone in his universe forgetting who Spider-Man was, the broken spell brought in everyone who knew Spider-Man's identity from other universes. It would have been a lot worse (which it almost gets), but Strange quickly contains the spell.
It Wouldn't Be a Fair Review if We Didn't Point Out Some Issues in Spider-Man: No Way Home
(Images: Sony Pictures)
Just one problem with that reasoning. When we explained the post-credit scenes, we talked about how Venom could have known Spider-Man's identity. Hive minds and multiverses, just the standard stuff. But one villain never knew Peter Parker was Spidey: Electro. He even jokes about it at the end when he sees Spider-Man's face:
"You're from Queens. You've got that suit. You help poor people. I thought you'd be black."
They joke that there must be a black Spider-Man somewhere in the multiverse. You know, like Miles Morales in Into the Spider-Verse? But here's the problem: they established earlier that this is the Electro from Amazing Spider-Man 2. Lizard comments on how he upgraded his look from the balding, sweaty guy to Jamie Foxx with every muscle on display. That Electro never found out that Peter Parker and Spider-Man were the same person.
It's a little annoying but forgivable – mainly because Jamie Foxx got to redefine a role he should have nailed the first time, but too many hands in the Amazing Spider-Man pot killed that. It also gave us a great moment between Electro and Sandman. One fell into a vat of mutated electric eels. The other fell into a pit of sand and a science experiment. "Gotta be careful where you fall," Electro comments. And one of the best moments of the film involved Electro, so Sony? Marvel? We forgive this oversight.
The Most MCU Moments in Spider-Man: No Way Home
Happy Hogan's Apartment has seen better days. (Image: Sony Pictures)
For a second, the movie embraces the MCU humor to its fullest. After Peter successfully leaves Doctor Strange stranded in the mirror dimension (thanks to math), the five villains agree to go with him to Happy Hogan's apartment (where Peter and May are crashing) and start working on cures. Happy still has a Stark fabricator stashed away, so it was the best place to bring them. And to destroy Happy's apartment. Everything is going as planned. Peter helps Octavius regain control of his mechanical arms, freeing him from the voices in his head. He has a cure for Electro, who is not thrilled about it, but going along with it anyway. But the next patient? Norman Osborne. But this entire apartment scene, consisting of just six characters bantering back and forth, is pure Marvel Studios.
Aunt May even cracks a "dad" joke. She offers Otto a glass of water and then asks, "Freshwater or Saltwater…because, you know, you're an octopus." Corny, but it's Aunt May. It's supposed to be.
Spider-Man: No Way Home was Always Going to be the Darkest Spider-Man Film, so Let's Review Why
(Image: Sony Pictures)
Up until now, Osborne's been the dominant personality and more than willing to help Peter with a cure. Until, that is, a cured Doctor Octopus triggers the Goblin persona, asking Norman if he's relieved that he'll be free of his "darker half." Otto might as well have said, "HEY! GOBLIN! THEY ARE GOING TO KILL YOU! WAKE UP!" Before Peter can try, the Goblin emerges, convinces Electro to stop the procedure, and all hell breaks loose. Electro and Sandman burst out of the apartment, Doctor Octopus with them, now fighting on Spider-Man's side. The Lizard busts out of the truck. It turns out he was waiting for the opportunity to stop Peter from making a cure. Aunt May grabs the Goblin cure and runs as Norman beats the webbing out of her nephew. And it gets worse.
Willem Defoe is phenomenal. When he switches back to Goblin, it is terrifying. As he – and then the Lizard with him – toss Spider-Man around the apartment building, he psychology attacks him too. He goes after May and how she's made him weak. This is the Goblin of the Raimi films, through and through. It also had to be the Goblin for what came next. This movie needed to break Peter. And it did. Goblin kills Aunt May. We'll explore this more later. We're still grieving.
Quick Look at the Spider-Friends, Ned and MJ
(Image: Sony Pictures)
This is the best film for all three actors, but MJ and Ned get to shine. Zendaya is great at showing how MJ's rugged exterior is actually able to crack at any moment. But also, we see MJ struggle a lot more with her pessimism in Spider-Man: No Way Home, so she deserves a major shout-out in this review and all others. Peter entrusts MJ with the broken spell Strange contains in that mysterious box we saw in the trailers. There's a button on the box that, when pressed, will send the villains home. She seems ready to use it, always the most pragmatic person in the room, but this is beyond pragmatism, and Zendaya sells it.
But we can't forget the newest superhero introduced in Spider-Man: No Way Home, and honestly, I wanted to get to this point in the review much sooner. However, it's not as big as, say, AUNT MAY DYING! Jacob Batalon is the soul of the Homecoming trilogy. Ned, MJ, and Peter reflect heavily on the Harry, MJ, and Peter trifecta. But Ned does promise never to turn evil and try to kill Peter. And the way Batalon pushes his heart and humor forward is magical.
No, seriously, Ned is a WIZARD now. He accidentally learns this while holding Doctor Strange's sling ring and opens a portal. So, best character arc in the MCU history? For the sake of this Spider-Man: No Way Home review, I want to say yes. But it's up there.
We Finally Got the Moment We've Been Waiting for Since Into the Spider-Verse Made it a Possibility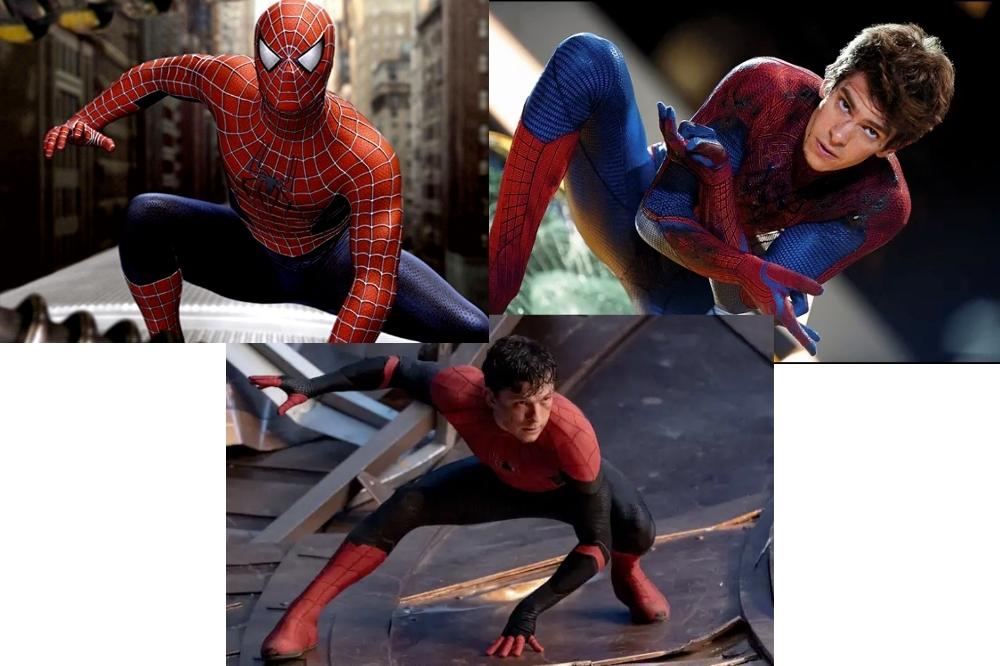 (Images: Sony Pictures)
Yes. Andrew Garfield and Toby Maguire both show up, and they are brilliant. For both, it's a redemption from their last Spider-Men films. Sometimes literally, such as when MJ falls from the Statue of Liberty. It's Garfield's Spider-Man who saves her, something he failed at doing (and even contributed to) for Gwen in Amazing Spider-Man 2. Maguire's Spider-Man's biggest regret was not saving Norman Osborne. All the horrible things that happened to Harry happened because of that moment. But as a rage-fueled Tom Holland Spider-Man is about to impale Goblin with his own glider, Maguire jumps between them and stops Holland from killing a man.
Every moment the three are together is amazing. So, there's a lot more to say about this, but we're going to save that for a future article.
The End of Spider-Man: No Way Home and the End of this Review
(Image: Sony Pictures)
This is another element I want to dive deep into, but we should, of course, touch on it here. Marvel's had some sad endings, but this is one of the top three, after Endgame and, which will always be first, Infinity War. Goblin destroys the box containing the broken spell, and the multiverse rips open. We see hundreds of glowing silhouettes suggesting other Spider-Man heroes, villains, and friends, about to come through. Peter asks Strange if, because they are only coming through since they know Peter Parker is Spider-Man, what if the entire world forgot who Peter Parker was. Not just that he's Spider-Man, Peter Parker as a person too.
It's a harrowing ending. First Strange says he can't do it because everyone Peter knows and loves – and he says "we" with this – will forget he exists. But it's the only way. He says goodbye to his fellow Peters, and then he must tell Ned and MJ. He promises to find them and remind them of who he is. MJ tells him she loves him but doesn't let Peter say it back. "Say it when you find me," she tells him. She forgets him and all the multiverse characters, some of them now cured and opening a big can of worms, go home.
And Yet, Marvel Pushes It Further
(Image: Sony Pictures)
Oh, it just gets sadder. When Peter tells Ned and MJ what happened and who he is, he stops himself. He's seeing the two of them, about to go to MIT, happy, and more than that, safe. So, he leaves them to live alone. He can only be happy in knowing that the people he loves (or those that are left) are safe.
Yeah, let's end this Spider-Man: No Way Home review here because I don't feel like sobbing right now. But, what did you think of the movie and all the shocking moments? Tell us below.