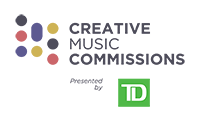 In March 2020, the performing arts ground to a halt, and event producers scrambled to figure out next steps. Here at Coastal Jazz, we entertained a number of ideas, but ultimately what we heard from the artistic community was that, at a time where live performances weren't possible, what they really needed was to replace lost income and to feel creative.
What we finally landed on was to support artists with commissioning fees, allowing them to use this time to write new music while also paying their bills. With the ongoing support of TD, we were able to help out a number of artists in at least a small way, while contributing positively to the music. We did not put any requirements on time, results, number of tunes, format, or ensemble. We recognized that creativity hits in mysterious ways, and perhaps these funds would be used to fund ultimately unsuccessful experiments.
As you peruse our site, you may have noticed this logo attached to certain events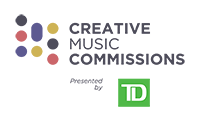 Commission recipients performing at this year's festival include:
We hope you'll tune in or attend a performance, and enjoy what was created.